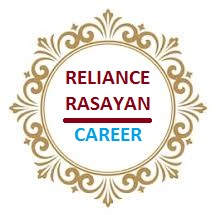 We are very well aware of what people can achieve when inspired and therefore, at RELIANCE RASAYAN, we strive to create an atmosphere for Reliance Rasayan employees to excel at what they do.
The Company provides an environment that helps individuals to showcase their talents and rewards performance and results. This challenging workplace has helped RELIANCE RASAYAN attract, develop and retain talent, and we have done this successfully since 1988.
Life & Culture _____
RELIANCE RASAYAN is a professionally managed company where the people working here make all the difference. They have the excitement, energy, commitment and sense of purpose to deliver what the customer wants.
Equal Opportunities Employment _____
We are an equal opportunities employer. We welcome people from all backgrounds and recognise that in order to be successful, we need to create an inclusive environment where everyone can realise their potential and succeed.
Recruitment _____
We hire talented, committed and self-driven people and strive to create a work environment that brings out the entrepreneur in all of us. Our recruitment process is thorough and extensive. Our focus is to ensure we hire the right people who have the skills and desire that match the job criteria as well as the competencies and values that fit into the RELIANCE RASAYAN culture.

Competitive rewards and benefits

Inspiring young leadership

Collaborative and engaging work environment

Commitment to employee wellness and safety

Enabling environment for career development and progression
Environment, Health and Safety _____
The top management is committed to excellence in Environment, Health and Safety (EHS) and consider environmental protection, prevention of occupational illness and prevention of work injuries as pillars of corporate responsibility. All our employees imbibe this "Safety First" attitude.
Career Development _____
RELIANCE RASAYAN creates a customized development plan to help you achieve your career goals. We partner with you to build a long and rewarding career by providing:
* Mentoring relationships
* On-the-job training
* Internal and external/ off-site training programs
* Ongoing career development planning Opportunities for internal career mobility / job rotation

It has come to our notice that fraudulent recruitment offers are being extended on behalf of RELIANCE RASAYAN in the name of Board of Directors by certain individuals/entities.
Please note RELIANCE RASAYAN does not:
Send job offers from free email services like Yahoo mail, Rediffmail, Gmail, Hotmail, etc.
Request payment of any kind from prospective candidates for employment or any sort of fees.
Authorized anyone to either collect money or arrive at any monetary arrangement in return for a job at RELIANCE RASAYAN.
Issue any offers of appointment except through company appointed personnel and never through any third-party recruitment agencies.
Take responsibility for anyone acting on an employment offer not directly made by RELIANCE RASAYAN group or legal subsidiaries.
Authorize or promote any employment offer in return for money or other type of gain.
Authorize any individuals/entities who misrepresent our company or our personnel at any point in time and reserves the right to take legal action, including criminal action, against such individuals/entities.
Please forward your resume to:
Human Resource Department
Email: contact@rrplpharma.com